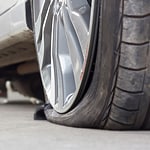 A tire blowout can make it dangerous for you to drive. It can result in a serious accident. The good news is that a tire blowout is something that can be avoided in many cases. You will need to check the tire pressure every month. If the tire pressure is too low, then it will have to work harder. This can cause a tire blowout.
You will also need to have your tires replaced on a regular basis. Tires will typically need to be replaced once every six years. However, this will depend on how often you drive. You can store a lot of things in your car, but you do not want to overload it. Too much weight can put pressure on your tires.
If you need to have your tires serviced, then you can go to the dealership. They can take care of all of your auto needs.